ATLANTIC CANADA EVENT SUMMIT CONCLUDES WITH NEW PARTNERSHIPS AND STRONGER COLLECTIVE RESOLVE FOR EVENTS IN ATLANTIC CANADA.
CHARLOTTETOWN, PEI.
​JUNE 14-16, 2016.
Charlottetown, PEI (June 16, 2016) – Held from June 14th-16th, the second edition of the Atlantic Canada Event Summit, attracted over 80 elected officials, community, and municipal and event industry leaders from all four Atlantic Provinces. The Summit, concluded today with new partnerships and a stronger collective resolve to develop a more strategic regional approach to the development and attraction of major events to the region. The City of Charlottetown's Mayor Clifford Lee served as Honourary Chair.
"We're proud to have hosted this important gathering of municipal, community and industry event leaders from across Atlantic Canada," said Mayor Lee. "These discussions underscore the Summit's growing significance as a platform for communities from across Atlantic Canada to work together on events."
The Summit featured a number of dynamic Keynotes from CBC Sports Olympic Primetime Host, Scott Russell; CBC Compass Host, Bruce Rainnie; 2021 Jeux de la Francophonie, CEO, Éric Larocque; Canadian Sport Tourism Alliance, CEO, Rick Traer; Mackenzie Tour PGA TOUR Canada's Director of Tournament Business Affairs, Scott Pritchard and Whitecap Entertainment and Cavendish Beach Music Festival, CEO, Jeff Squires.
During the closing session, the City of St. John's was announced as host of the 2017 Atlantic Canada Event Summit. It will be held in conjunction with St. John's hosting of the 2017 Tim Hortons Brier next March.
"Sport Tourism Event Partnership (STEP) St. John's is honoured to welcome the 2017 Atlantic Canada Event Summit to the City of Legends at the same time we host one of the most prestigious events in Canada – the Tim Hortons Brier," said Chair of STEP St. John's, Danny Breen. "We look forward to showcasing St. John's as a premiere sports tourism and event destination."
​
SUMMIT OUTCOMES:
CITIES OF CHARLOTTETOWN AND SUMMERSIDE SIGN MAJOR EVENT PARTNERSHIP
The cities of Charlottetown and Summerside announced a partnership regarding events and event hosting. The partnership focuses on working together to increase the impact of sport tourism, strengthen both cities as a sport tourism destination and leverage the hosting reputation and capacities of each municipality.
SUMMIT DONATES TO THE UNITED WAY OF FORT MCMURRAY
In lieu of Summit speaker gifts a total of $1,000 was donated to the United Way of Fort McMurray to support of those affected by the fire.
ANNUAL GENERAL MEETING
Event Atlantic's inaugural Annual General Meeting was held as a part of the Summit. Wayne Long (Charlottetown) was elected Chair of the Board of Directors. Elected to the Board for the 2016-2017 term are: Vice-Chair, Neal Alderson (Halifax), Meredith Caissie (Bathurst), Tanya Haywood (St. John's) and Laurel Lea (Charlottetown). Elected for the 2016-2018 term are: Maurice Belliveau (Moncton), Treasurer, Seamus O'Keefe (St. John's) and Paul MacDonald (Cape Breton Regional Municipality).
CITY OF ST. JOHN'S ANNOUNCED AS HOST OF 2017 ATLANTIC EVENT SUMMIT
The city of St. John's was announced as host of the 2017 Atlantic Event Summit. The Summit will be held March 9-11, 2017 in conjunction with the 2017 Tim Hortons Brier.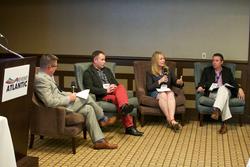 Charlottetown, PE, Canada